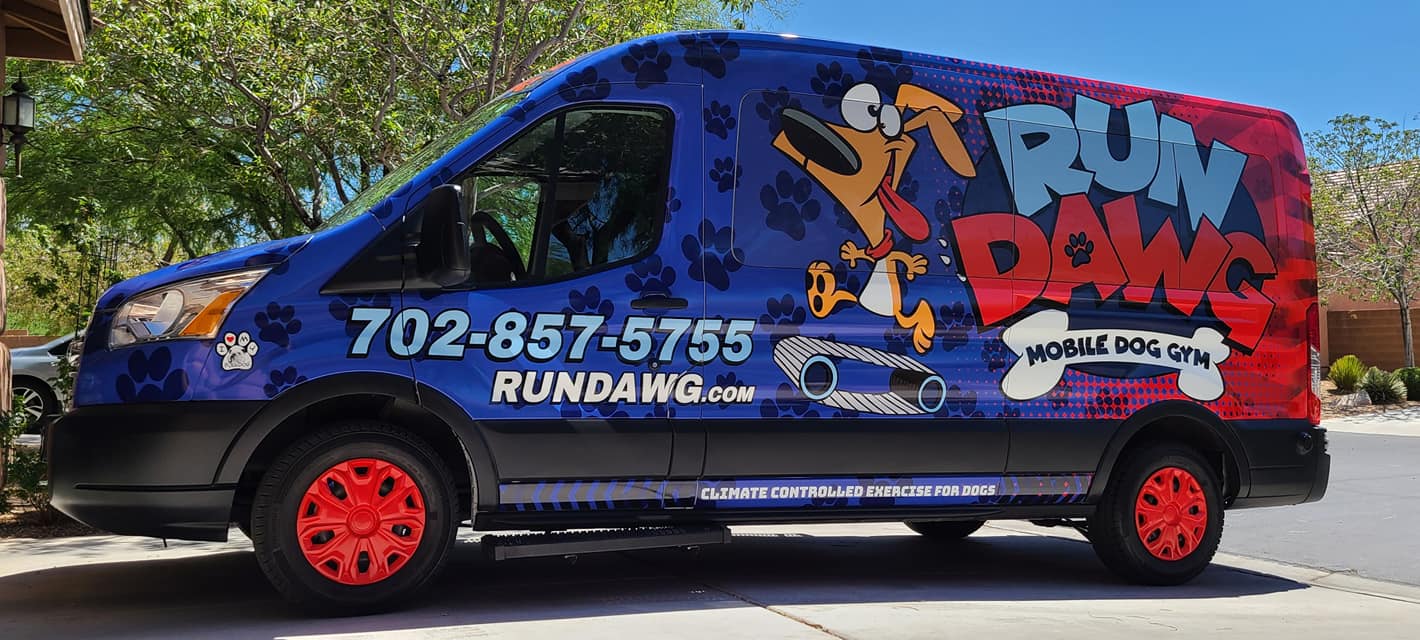 LAS VEGAS' MOBILE DOG GYM
RUN DAWG Mobile Dog Gym was founded to give dogs the ability to exercise in a safe and climate controlled environment. We use treadmills that have no motors, and keep the van cool so they can work out in comfort.
It's the best 30 minutes of your dog's day.
WHAT IS A MOBILE DOG GYM?
READY?
We come to you!
Our team of canine fitness coaches will arrive at your location and introduce your dog to our non-motorized treadmills and out climate controlled van. The beginning is usually pretty slow as the dog learns that the treadmill will not hurt them, and begins to understand that walking on a moving surface will not make them fall. We will encourage your dog with toys, clapping, whistling and positive motivation. The first few sessions will be all about learning a new skill, and growing to understand what the treadmill is.
Don't worry if they don't run the first time. They will be mentally exhausted from all the learning they have done, and will probably sleep like a baby tonight.
SET?
Learning mode engaged.
After your first run, your dog will begin to understand that they can move faster on the treadmill without falling over. Most dogs begin to walk within one or two sessions and will keep up a steady pace while being encouraged. We stay with your dog the whole time and keep motivating them!
The second or third sessions usually result in both a physical and mental workout for your dog. We are continually assessing your dog's physical condition as well as their personality, so we never overwork your dog past their limits. They can stop any time they are tired, and will get periodic rest and water breaks.
RUN!
Beast mode activated!
If your dog likes to run and chase things, after a few initial sessions they will be confident enough to begin to run on the treadmill. We encourage them to run for short periods of time, then walk in order to cool down. Our "sprint" sessions are for dogs that have built up enough stamina to run for longer periods of time, and we will let them go for slightly longer before bringing them back down to a walk. Periodic rest and water breaks are provided, and the final five minutes of your dog's workout will be a cool down session where they will walk slower and slower to reduce their heart rate.
Most dogs grow to love the treadmill workouts, and will look forward to them. Many dogs recognize the van, and get excited knowing they will be able to run.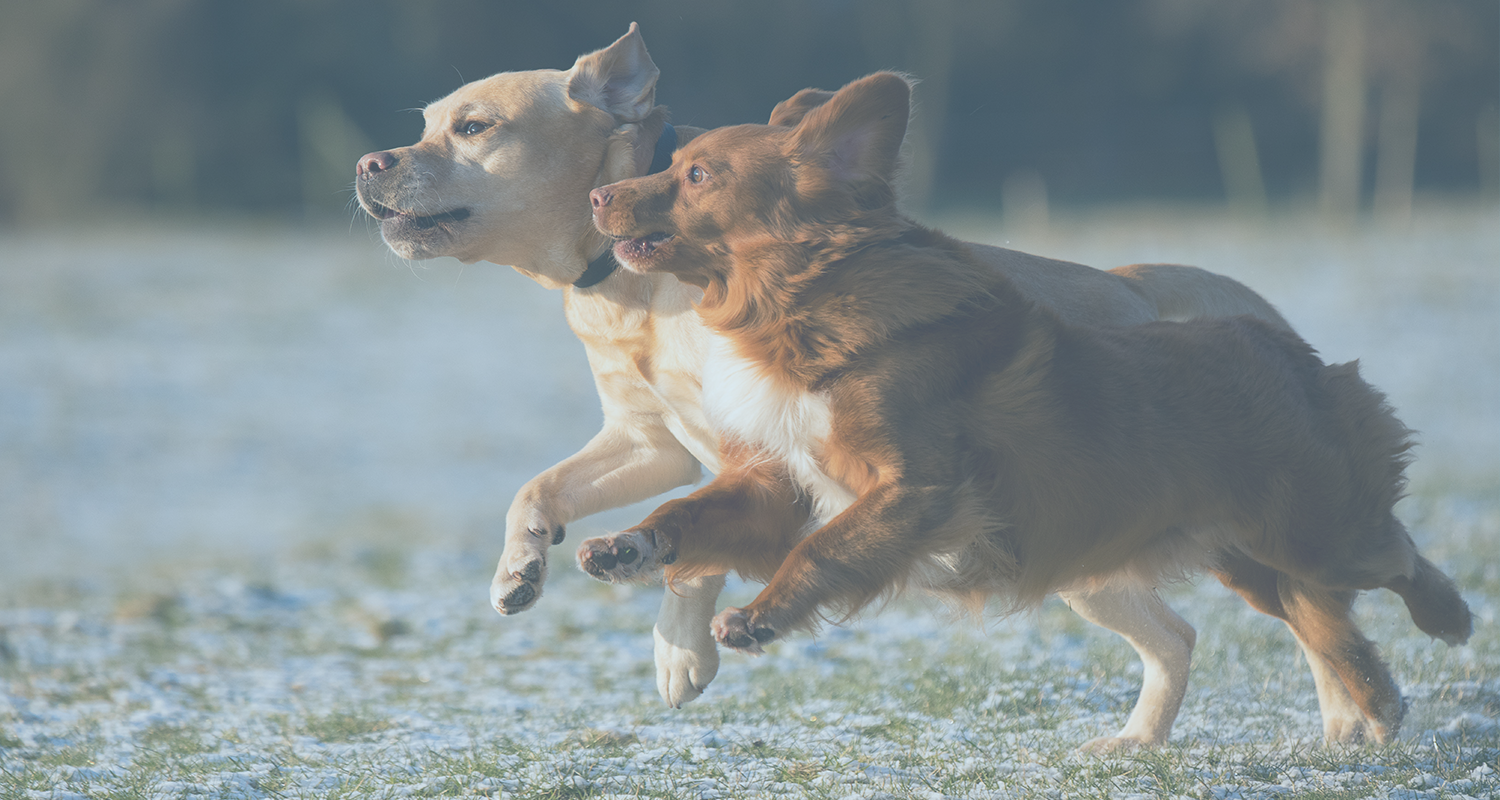 Reduces destructive behavior
Helps weight loss/control
WHY RUN DOGS ON TREADMILLS?
Dogs need to run. RUN DAWG Mobile Dog Gym allows them to do that in an environment where they won't burn their paws on pavement or get into fights at a dog park. They need tons of exercise to be happy and healthy, and very few of them get enough. The result is health problems, low quality of life and restlessness. Our exercise programs are designed to help your dog work through that energy while also gaining muscle and stamina.
When dogs don't get enough exercise and mental stimulation they suffer. Regular exercise will help improve the health of your dog in nutrition, cognition, and socialization. It will also help with destructive behavior and whining, restlessness and biting as well as fitness and appetite issues.
Your dog's fitness and health are your responsibility. You are in complete control of the food they eat and the exercise they get. Like any living thing, better food and more exercise results in better health. Just like we strive to be as healthy as possible ourselves, we need to provide the same for our dogs. As a matter of fact, our dogs need a lot more exercise than we do in order to stay healthy and happy.
This is not a substitute for walking your dog, or playing with your dog. Socialization is as important as exercise, and walking or playing bonds you with your dog in a way that workout sessions can't. We encourage you to spend as much time with your dog doing physical activities as possible, and to use our services the same way you use gym memberships for yourself. It isn't designed to replace life, it is to help make life better!
Most people give their dog a workout once a week, or maybe twice. Athletic dogs can do even more, but their muscles need to rest in between. Your dog will be less restless and destructive, more healthy and happy, and will live longer as a result.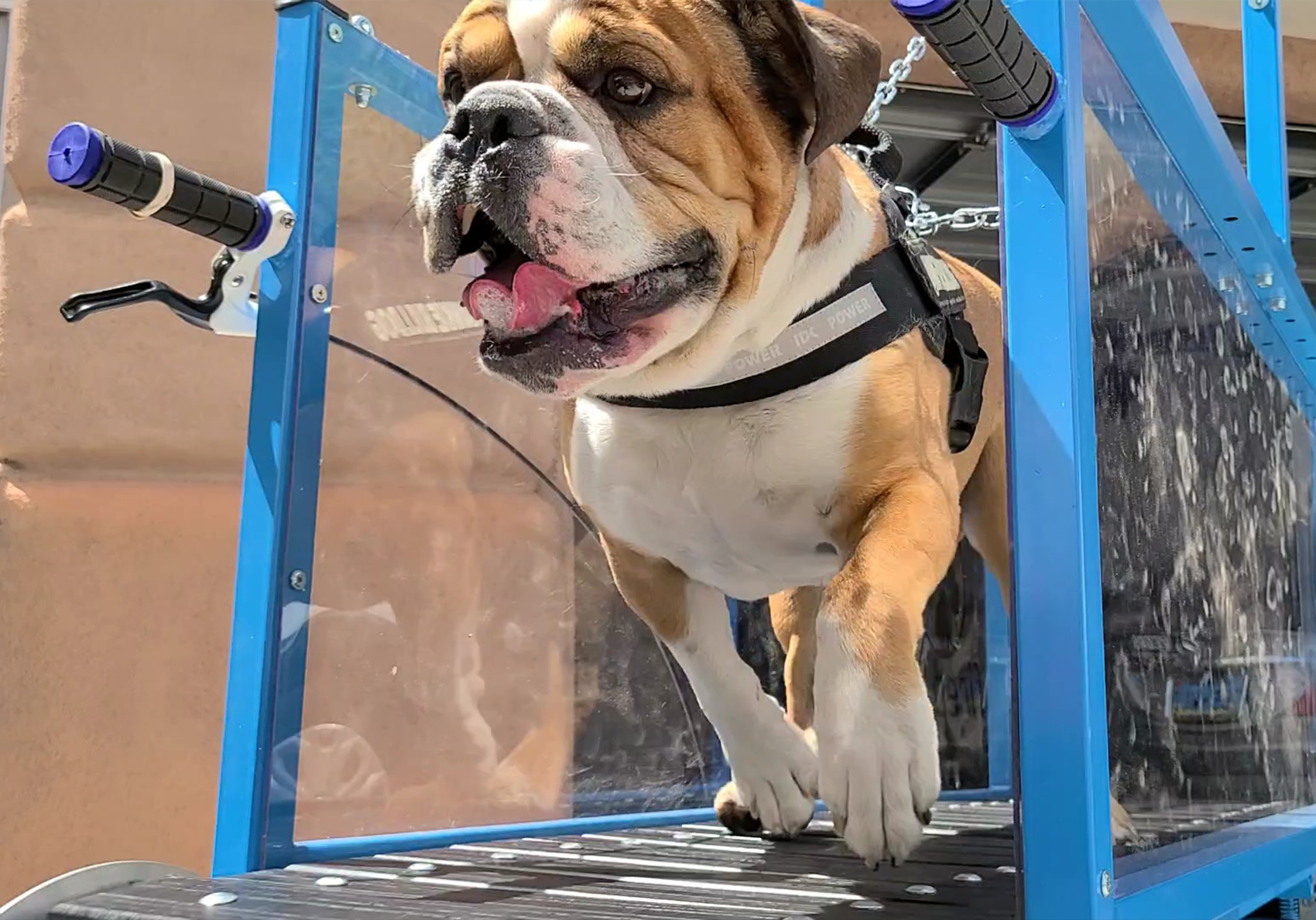 1.Walk your dog prior to their run
2. Don't feed 1 hour prior to the scheduled run
3. Have treats & toys ready
4. If your dog is aggressive please muzzle before we arrive
5. Your vet must clear dog and give vaccination info
6. Have your dog ready to go with their harness on
7. Dog I.D. tags worn at all times
8. Don't be jealous of your dog's awesome fitness.
All dogs react differently and will take different amounts of time to get used to the treadmill exercise. Most dogs will initially do 1 of 2 things, they will either lay down until they gain the confidence to stand and walk, or they will charge forward. If they try to run immediately, they will need to be slowed down until they gain balance and control. Getting acclimated to the process will usually take between 15 minutes and several sessions.  Since we are a mobile treadmill exercise van, some dogs will also need to get used to being in a vehicle.
Not all dogs will run on the treadmills. Some will walk at a fast pace and some will walk slowly. Because there is no motor on the treadmills, the dog will set the pace they want to move themselves. We can encourage them to walk or run faster, but only they can make that decision. Once they realize they can go at any pace they want to, the dog will decide if he/she wants to run.  The walking is a good workout for dogs who have less drive, and the running is a better workout for more athletic dogs. Just like when you take them to a park or field, they will only run if they want to.
Your dog will probably walk or run faster over time as they get more used to this type of exercise. They will gain confidence and their health will improve. Weight will be lost and muscle will be gained. As this happens, your dog will feel better than before and begin to move at a faster pace. We work to continually encourage your dog to work harder as their health improves, just like a personal trainer would for a human being.  As they have more fun, the faster they run!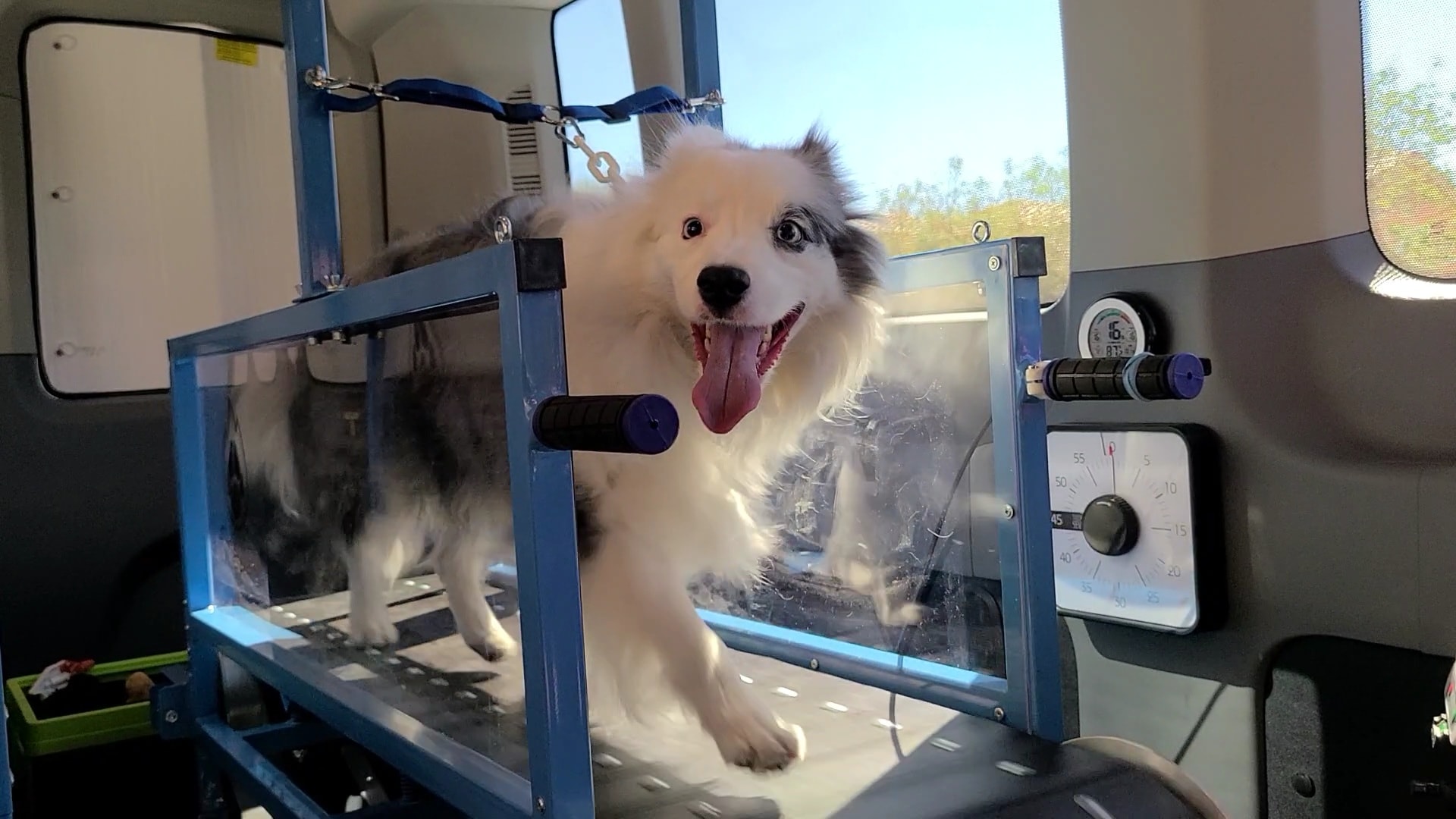 LAS VEGAS DOG FITNESS NEWS
HOW A MOBILE DOG GYM WORKS
MOBILE DOG EXERCISE PRICES
Single
We come to you, and our canine fitness coaches spend 30 minutes working your dog out on our special, non-motorized treadmills.
$45/30 Min
Double
We come to you and our canine fitness coaches will spend 30 minutes working out 2 of your dogs side by side on our special, non-motorized treadmills.
$80/30 min
Packages
Our runs are available at discounted prices if you book more than one. Click for details.